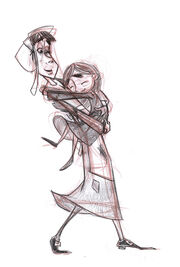 Aggie's mom
is an unseen character and the mother of
Agatha Prenderghast
. She lived in
Blithe Hollow
with her 10-year-old daughter, Agatha (also known as "Aggie"). It is not known if she was married or didn't have a husband at the time Agatha was alive. Little is known about her but it seems to be that she was a loving mother who loved her daughter even though Agatha could talk to the dead. In 1712, she was heart-broken when Agatha was taken away and hanged. For over 300 years, Agatha's spirit haunted Blithe Hollow and never returned to her mother because she (Agatha) was busy plotting her revenge on the people who hunted and hanged her. Once
Norman
was able to calm Agatha down, she revealed to Norman how much she missed her mother. After talking with Norman, Agatha moved on into the after-life with her mother.
Trivia
It's possible if she is married to a Prenderghast that she could be related to Mr. Prenderghast and be related to Norman.
She is somewhat like Norman's mother, Sandra, as she is loving and supports her child's gift.
Aggie was buried under the tree her mother took her to before she was taken away. This could have reminded Aggie of her mother and made her angrier as she deeply missed her mother.
She would tell Aggie stories with happy endings.
When Aggie was taken away and killed, she told Norman she never saw her mom again and that she misses her.
Ad blocker interference detected!
Wikia is a free-to-use site that makes money from advertising. We have a modified experience for viewers using ad blockers

Wikia is not accessible if you've made further modifications. Remove the custom ad blocker rule(s) and the page will load as expected.