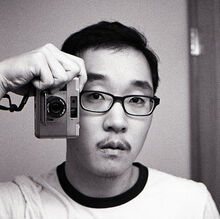 Alan Cook is an art director at House Special, LLC, and visual development artist at Laika Entertainment, where he worked as a graphic designer and designer for ParaNorman.
He attended Sheridan College (2004-08), earning a Bachelors in Applied Arts, Animation, and worked as an intern at Chuck Gammage Animation (2005). Alan also worked as a technical director at JibJab (2008-2010), an animator at Walt Disney Imagineering (2009), an animator at Gunshop (2009), and a children's book illustrator at Rubicon Publishing (2008-09).
Filmography
Films
The Boxtrolls (2014) - character designer / prop designer
ParaNorman (2012) - graphic designer / prop designer
Video Shorts
He's Barack Obama (2009) - visual effects
Never a Year Like '09 (2009) - animation department.
Concept Art Gallery
External Links