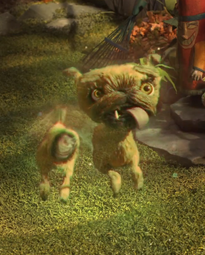 Bub is Neil's deceased pet dog who is apperentally a pug. According to Neil, Bub was ran over by an animal rescue van and as a result, he is split in two with the front part and the back part. When Neil is playing with Bub, Neil bends over to kiss him and Norman says, "That's not his chin." It zooms out and shows Bub's butt in Neil's face. Bub also likes to play fetch.
Trivia
Ad blocker interference detected!
Wikia is a free-to-use site that makes money from advertising. We have a modified experience for viewers using ad blockers

Wikia is not accessible if you've made further modifications. Remove the custom ad blocker rule(s) and the page will load as expected.