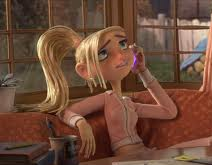 Courtney Babcock is the older sister of Norman. She is a cheerleader and acts stereotypically snobbish and mean-spirited most of the time. Courtney resents Norman and when he says he can see the dead, she goes out of her way to prove he`s a liar. Until the night when she puts aside her differences and stands up for him, because even though she acts like she hates him, she loves Norman with all her heart. Courtney is usually in a tight pink sports outfit that hugs her curves and shows her belly. She attempts to flirt with Mitch many times during the events on the night of the 300th anniversary of the witch's hanging. She is later disappointed when she finds out Mitch is gay, after he mentions his "boyfriend."
Quotes
 "He's like R-I- double P- E-D. Like a seven pack, at least."
 OMG. You are such a liar!"
"Did we turn our backs when Dale Rige High was slaughtering our volleyball team?"
 "I KNEW IT! OH, YOU'VE BEEN SNEAKING UNDER MY PERSONAL *groans* You are the worst!"
Trivia
Movie
Courtney, even though she llikes Mitch who doesn't like her that much due to being gay, hates the fact that Alvin likes her, which was definately shown to the extreme when he squeezed her butt, oddly enough he got away with it for the most part.
Book
 

Courtney only acts mean to Norman because she is jealous that he can still see their 

Grandma

 and she can't. The other being that she is the "sister of the freak."

Courtney's pony tail is her signature look, because when it bounces, it turns men into 'drooling robots.'
Gallery