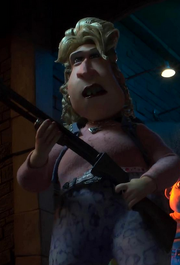 Crystal is one of the few known citizens of Blithe Hollow. She is also one of the people who started the angry mob to go against the zombies by getting out her gun and yelling "kill em' in the the head!" She is voiced by Bridget Hoffman, who also voiced the Parachutist Ghost.
Gallery
Ad blocker interference detected!
Wikia is a free-to-use site that makes money from advertising. We have a modified experience for viewers using ad blockers

Wikia is not accessible if you've made further modifications. Remove the custom ad blocker rule(s) and the page will load as expected.