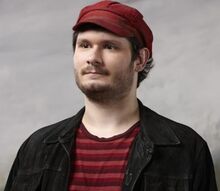 Ean McNamara is an illustrator and storyboard artist at Laika Entertainment, working storyboard artist on Coraline, and production illustrator on ParaNorman. He also studied at The Mary land Institute College of Art (2001-06).
Concept Art Gallery
Beat board layouts by David Vandervoort and painted by Ean McNamara.
Collaborated with David Vandervoort and Trevor Dalmer
Movie poster line art by David Vandervoort, and painted by Trevor Dalmer and Ean McNamara.
External Links
Ad blocker interference detected!
Wikia is a free-to-use site that makes money from advertising. We have a modified experience for viewers using ad blockers

Wikia is not accessible if you've made further modifications. Remove the custom ad blocker rule(s) and the page will load as expected.